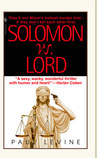 My friend author Paul Levine's brand new website is up, just in time for the launch of his acclaimed new novel SOLOMAN VS LORD. It's a slick site…go take a peek right now. Among the many funny and interesting things on the site is this anecdote about his first Hollywood experience with a movie based on one of his books:
Here's an actual telephone conversation between the naive novelist in Miami and
the savvy screenwriter in Hollywood:
NOVELIST
You didn't use any of my notes.

SCREENWRITER

And you don't understand the process.

NOVELIST
There's a
process?

SCREENWRITER
See, you owned a car. You sold us the car.
Now, you want to drive the car. But I'm gonna drive it. You can wave as it goes
by. That's the process.