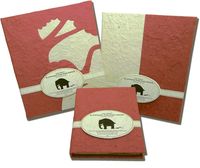 Now they are making stationery out of pachyderm poop. Obviously, this is going in my next MONK book. Here's an excerpt from the Los Angeles Times story:
Vijender Shekhawat's big break came while visiting a shrine near the Amber Fort in Jaipur, as he glanced down at the pile of elephant dung he had just failed to avoid. A struggling maker of handmade paper, he noticed that the texture of the plant-eating animal's manure was a lot like wood pulp.

Eureka! he thought. Pachyderm poop paper.

[…]Shekhawat, who believes he was India's first elephant dung papermaker when he launched the venture eight years ago, uses 3,300 pounds of droppings a week. The dung is first washed, then boiled with baking soda and salt to reduce the smell, beaten to a pulp, forced through a sieve and flattened into sheets. Drying takes a day to, during rainy season, a week.

At one point, Shekhawat fed the elephants turmeric hoping to create yellow paper. That failed. Now he adds organic dyes late in the process, including beet juice for red paper, dried pomegranate skins for gray and the castor oil plant for green.

He now produces 2,000 2-by-3-foot sheets a week, which sell as far afield as the United States and Europe.