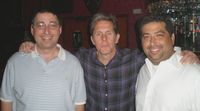 Every author should be lucky enough to hear their story read by a professional actor. It makes you appreciate nuances of character, and feel the "beat" of the story-telling, in ways that sometimes doesn't come across on the page.  It's one reason I enjoy listening to the audiobook versions of my MONK books — they feel new to me even though I wrote them.
Tonight I went to WordTheatre's presentation of three short stories: TC Boyle's Three Quarters of the Way to Hell, James Salters' Such Fun, and my brother Tod Goldberg' s Walls. Gary Cole read Walls, Carla Gugino read Such Fun, and Gugino & Adrian Pasdar read Three Quarters of the Way to Hell. Cugino was the stand-out of the three actors, truly enlivening and enriching what she read, particularly in Boyle's story (where she was much stronger than the material she was reading). I am too close to Tod's story to be objective about it, but I thought Cole made some interesting choices, not all of them successful, but he still illuminated aspects of the story that I hadn't seen in the quite same way before, either when I read it or when I'd heard Tod read it. 
That's me, Gary Cole, and my brother Tod in the picture (you can click on it for a larger view, though it's hard to imagine me or Tod any larger than we already are). Cole and I chatted about a bit about MIDNIGHT CALLER — he can't understand why the show hasn't come out on DVD yet. I said there's no logic to how those decisions are made… if there was, utter shit like Dom DeLuise's flop sitcom LOTSA LUCK wouldn't be on DVD. Is there anybody who wants to see Dom DeLuise for God's sake?
Naturally, Michael DeLuise was sitting right behind me.