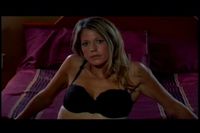 J. Kingston Pierce at The Rap Sheet blog has some very nice things to say about REMAINDERED, the short film that I write and directed in Kentucky. He says, in part:
This may be the only time you'll ever hear the dictate "Read to me" uttered quite so seductively. Telling more about Goldberg's plot would spoil its many criminal and comic delights. And even though I immediately caught the mistake on which this story's conclusion depends, I never lost interest in its unfolding. Remaindered may not be a mammoth Hollywood production, but Goldberg–whose TV-writing credits include Diagnosis: Murder, Monk, Spenser: For Hire, The Cosby Mysteries, and A Nero Wolfe Mystery–has invested no less attention in its crafting because of that.

Remaindered has evidently been entered in several film festivals, but I hope it also receives wider distribution. It's a quirky, fun picture that members of the crime-fiction community are sure to enjoy.
And cop-turned-author Paul Bishop also said some very nice things to say, including:
Remaindered is a smooth piece of business – not only crisply directed and acted, but with a sense of humor that resists the temptation to go over the top offered by the film's content.
We haven't heard back yet from any of the film festivals that we've submitted to…but we have our fingers crossed. I hope they like the movie as much as Paul and the Rap Sheet did. Thanks for those great reviews!