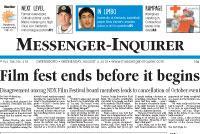 REMAINDERED was the good news/bright side in an article in today's Owensboro Messenger-Inquirer about the unfortunate cancellation of the NDX Film Festival. The article said, in part:
Though the festival has been canceled, a short movie will still be filmed in Owensboro in September.

"Remaindered" was written and will be directed by Lee Goldberg, a veteran TV writer, author and member of the Mystery Writers of America. The film was set to premiere during the NDX Film Festival.

"Remaindered" is about a once famous and successful author who is on a downward spiral in his career and in the midst of a self-funded book tour. The movie takes its name from the term for a book being relegated to a store's bargain bin. Students taking classes in the recently created theater arts degree program will have the chance to participate in the filming.

Newton said he and Goldberg hope to show "Remaindered" and "Murder in Kentucky," a short movie filmed during the 2009 International Mystery Writers Festival, in October at the RiverPark Center. A round-table discussion about filmmaking and what filmmakers learned from the two movies would then be held, Newton said.

Roxi Witt, general manager of the RiverPark Center, wrote in an e-mail that RiverPark staff members need to discuss the possible showings with its board of directors at this month's meeting."