As a novelist on the signing/promotion circuit, I end up going to a lot of readings, conferences and seminars…and I hear a lot of authors speak. What I've learned is that someone could make an awful lot of money teaching public speaking skills to authors.
It's amazing to me that people who are so good at expressing themselves on the page can be such dull, uninspiring, and clueless public speakers, whether they are in front of five people or five hundred. They give meandering speeches while mumbling into the microphone (if they even remember to hold the microphone to their mouths), completely unaware that no one is listening to them. It seems to me like they aren't even trying to engage or amuse their audience, to connect with them in any way. They just stand behind the podium and blunder along, reciting in mind-numbing detail the plot of their latest book, oblivious to the fact that people are jamming forks into their legs to stay awake.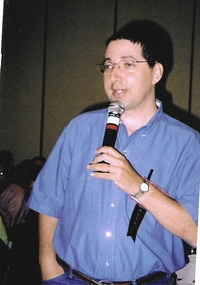 So many authors look at giving a speech or being on a panel as an opportunity to sell books. It is. But people aren't coming to hear your sales pitch or an hour-long, meticulously detailed summary of the book. They are coming to learn something about you. To get a sense of the man or woman behind the words on the page. And if what they get is a huckster aggressively trying to sell his book or, worse, someone who sucks the soul out of every single poor person in the room, then your appearance has been counter-productive. You will actually lose readers. The next time someone in that audience sees your name on a book cover, all they will remember is that boring speech that felt like a root canal without the pleasant distraction of the drill.
I'm not the world's greatest public speaker but I can immodestly say that I don't suck, either. While I am up there, I try to enjoy myself. I try to be energetic, to speak loudly, and to make eye contact with the people in the audience. If I can, I get out from behind the podium. I look at people's faces and if I see I'm losing them, I change subjects, pick up the pace, or abandon my intended comments altogether and go with something else.
I like to make my audience laugh, but laughter isn't what's important. Your job is to be interesting and enthusiastic, to communicate your
ideas and point of view clearly and in an engaging way. You are there to entertain, educate, amuse and even provoke the audience. You aren't there to numb them into a persistent vegatative state. Also, don't try to be an infomercial for your book. It turns people off. They may be awake, but they hate you. They will be reflexively hitting a fast-forward button with their thumb. No one likes sitting through the commercial.
I don't use my time at a podium or on a panel to sell my book but
to indirectly sell me, a nice, interesting and perhaps amusing guy who
has written some things you might enjoy reading or watching on television.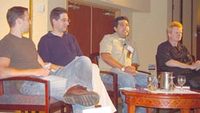 You can learn to be a good, self-taught, public speaker. Many speaking engagements and conference panels are recorded. Buy the tapes. Listen to yourself. It can often be a cringe-inducing experience…but do it anyway. It's important that you know how you sound to others. Take note of what parts of your speech, or which of your comments on a panel, worked and those that fell flat. Zero in on those places where you rambled, or blundered along aimlessly, and come up with a sharp new way of articulating the same point or answering that same question next time. And most important of all, listen to the other speakers as well. Pay attention to how they succeeded or failed…and learn from it.
I know a lot of writers are writers because they like the solitude, because they aren't good in front of a crowd. They simply don't like public speaking and aren't comfortable on panels. My advice for those writers is…don't do it. It's better not to do the speech or be on the panel than to bore your readers.