The Western Writers of America announced the winners of the coveted Spur Awards, the Oscars of western-writing. The winners will get their statues at the WWA convention in Spokane in June.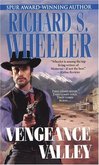 Best First Novel: FIELD OF HONOR by D.L. Birchfield (University of Oklahoma Press).
Best Original Paperback: VENGEANCE VALLEY by Richard S. Wheeler (Pinnacle) [his fifth win!]
Best Western Juvenile Non-Fiction: RATTLESNAKE MESA…STORIES FROM A NATIVE
AMERICAN CHILDHOOD By Ednah New
Rider Weber (Lee & Low Books)
Best
Western Novel: BUY THE CHIEF A CADILLAC by Rick Steber (Bonanza Publishing)
Best Novel of the West: PEOPLE OF THE RAVEN (Forge) By Kathleen
O'Neal Gear and W. Michael Gear [Best Western Novel is for books under
90,000 words; Novel of the West goes to longer works].
Nonfiction-Biography: BLACK KETTLE: THE CHEYENNE CHIEF WHO SOUGHT PEACE BUT FOUND WAR
by Thom Hatch of Calhan, Colo. (John Wiley & Sons).
Nonfiction-Contemporary: THE TEXAS RANGERS AND THE MEXICAN REVOLUTION by Charles H.
Harris III and Louis R. Sadler of Las Cruces, N.M. (University of New Mexico
Press).
Nonfiction-Historical: BEASTS OF THE FIELD Richard Steven Street of San Anselmo,
Calif. (Stanford University Press).
Short Nonfiction: BLOOD FOR OIL by Jim Doherty of Chicago
from the collection JUST THE FACTS (Deadly Serious Press).
Short
Fiction: THE
PROMOTION by Larry D. Sweazy of Noblesville, Ind., from the anthology TEXAS
RANGERS (Berkley).
Juvenile Fiction: FIRE IN THE HOLE! by Mary Cronk Farrell of Spokane,
Wash. (Clarion Books).
Drama Script: HIDALGO by John Fusco of Burbank, Calif. (Touchstone Pictures/ Disney).
Documentary Script: WILD WEST TECH: DEADWOOD TECH by Laura Verklan of North
Hollywood, Calif. (executive producer Dolores Gavin, The History Channel).
Poetry: A
THOUSAND MILES OF STARS by Walt McDonald of Lubbock, Texas (Texas Tech
University Press).
Storyteller (illustrated children's book): APPLES TO OREGON by Deborah
Hopkinson of Corvallis, Ore. and illustrator Nancy Carpenter of Brooklyn, N.Y.
(Simon and Schuster Children's Books).
Congratulations to all the winners! Richard Wheeler offers this amusing anecdote about his Spur-Award winning novel VENGEANCE VALLEY:
This one has a cowboy brandishing a gun on its cover, even if there are no cowboys with guns in the novel. That's part of the paperback mystique. Almost all western pocketbooks have cowboys with guns on the covers. That's done so that readers of westerns, who are usually ancient bald males will big and gaseous bellies, can identify them. Vengeance Valley was the title of a famous Zane Grey novel so the publishers probably thought to get a free ride by giving this story the same moniker. The author had named it Yancey's Jackpot but in the world of
mass-market paperbacks, authors' titles are summarily executed.
This cover is especially egregious because the story takes place on a mountain ridge instead of a valley, and there is no vengeance in it, and no cowboys with guns in it.
I wonder if Richard has considered putting Dick Van Dyke on the cover of his next book. It has certainly helped my sales.