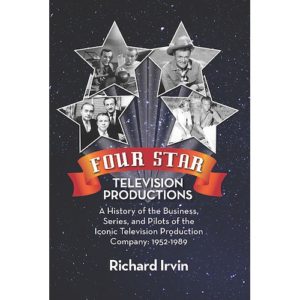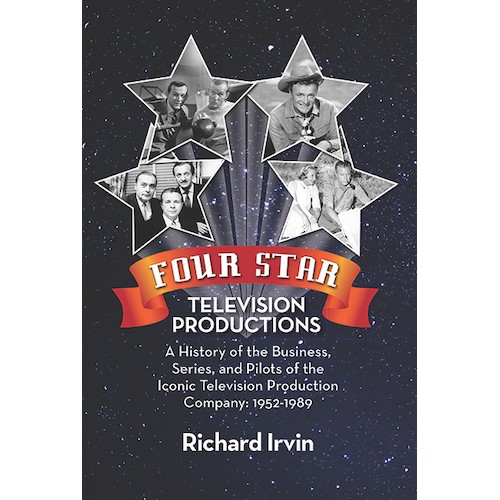 Four Star Television Productions: A History of the Business, Series and Pilots of the Iconic Television Production Company: 1952-1989 by Richard Irvin. This is a terrific reference book about a ground-breaking and innovative television production company that virtually nobody remembers any more. And yet TV producers and studios are still strongly influenced by the way Four Star Television did business – specifically how they used their TV series as cost-effective platforms to create more shows.
Four Star Television was a partnership between actors Dick Powell, David Niven, Charles Boyer and producer Don Sharpe. The company began by producing anthologies and came up with the brilliant notion of making as many of those stories as they could into pilots – sample episodes of proposed series. The strategy worked brilliantly.
For example, their anthology Zane Grey Theater begat the western series The Rifleman, Black Saddle, The Westerner, and Johnny Ringo. Four Star applied the same spin-off strategy to their episodic series. For example, The Rifleman begat Law of the Plainsman. The series Trackdown spun-off Wanted Dead or Alive, which begat Stagecoach West. Episodes-as-pilots are now known as "backdoor pilots," "planted spin-offs," and "nested pilots." Producers like Norman Lear, Aaron Spelling, Dick Wolf, Donald Belisario, and Greg Berlanti would follow Four Star's example with great success.
Four Star also perfected "the wheel," attracting big stars to do a TV series by only asking them to commit to three-to-six episodes a season, a concept that would be emulated later in shows like Name of the Game, The Bold Ones, Search, and the NBC Mystery Movie.
The book catalogs every Four Star series, and the concepts of every single "backdoor pilot," sold and unsold, in fascinating detail. Irvin also charts the rise and fall of the production company, the business successes and missteps. He is, quite simply, the best TV reference book writer/researcher in the field today…consistently providing a treasure trove of information in an easy-going, entertaining, highly-readable writing style.
My only problem with the book is that it lacks a comprehensive index, something that's essential in work of this magnitude and detail. It's a baffling oversight, especially given the software tools out there that make this once incredibly laborious task a lot easier.
That drawback aside, this book is a fascinating, essential, and brilliant work of TV scholarship and should be a part of any television reference library collection.