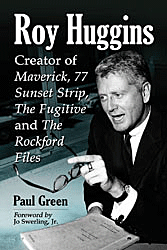 Two new books from McFarland & Co. are a feast for TV history buffs.
Roy Huggins by Paul Green explores in great detail the TV career of writer/producer Roy Huggins, creator (or co-creator) of such classic shows as Maverick, The Fugitive, 77 Sunset Strip, Toma, Baretta, The Rockford Files, The Bold Ones: The Lawyers, and Run For Your Life, as well as the driving force behind the creation of the "TV movie." He also produced many other series, including The Virginian, Cheyenne, Hunter, Kraft Suspense Theater, and Alias Smith and Jones, to name a few. The book is based on dozens of personal interviews, Huggins' own unpublished memoirs, newspaper & magazine articles, as well as my own, six-hour video interview with Huggins for The Archive of American Television.
It's a great book, exploring all of the creative issues, production details, political machinations (studio and network), and personnel matters (his relationships with actors, writers, producers etc), that shaped the weekly series, TV movies, pilots and mini-series that Huggins made as a producer, studio chief, and later as a hired gun. It's exactly the kind of book that I wish somebody would write about Stephen J. Cannell, Glen A. Larson, Fred Silverman, Steven Bochco, Bruce Geller, Goff & Roberts, Levinson & Link, and so many other TV producers.
Green clearly admires Huggins, but is not so enamored of his subject that he ignores the producer's faults, mistakes and failures. This is a serious, well-researched, information-packed reference work that is nonetheless an easy and engaging read. You don't have to be familiar with Huggins' shows to find the behind-the-scenes stories both fascinating and informative. This book isn't just for fans of Roy Huggins or his shows — it's a must-read for students of TV history and anyone interested in a career as a TV series show runner. It's hands-down one of the best books ever written about a TV producer…or being one.
Everyone knows about George Burns the actor and comic, but few people these days are aware of his influence as a TV producer and head of a successful production company. Much like Desi Arnaz, another major actor/producer/studio chief of the 1950s and 1960s, Burns did ground-breaking work that is still influencing TV writers and producers today. That's why Richard Irvin's George Burns Television Productions: The Series and Pilots 1950-1981 is a much overdue and necessary piece of TV scholarship.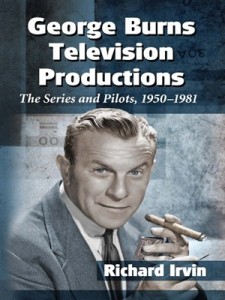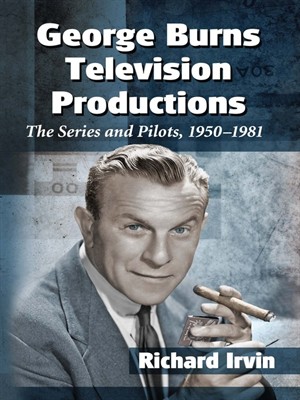 Burns famously broke the fourth wall with his Burns & Allen Show, about a showbiz couple with a TV show playing a showbiz couple with a TV show. He also produced such series as The Bob Cummings Show and Mr. Ed, and many of the writers, directors and producers that he worked with and supported went on to create huge hit series (like Paul Henning, who went on to create The Beverly Hillbillies and Green Acres). Burns and his company refined the art of using episodes as spin-off pilots, though none of the ones he did on Burns and Allen, or on Mr. Ed or The Bob Cummings Show, ever took off.
Irvin's fine book delves extensively into every business and creative aspect of the Burns & Allen Show, the Bob Cummings Show, and The People's Choice, as well as every single project that Burns' production company ever produced…every series, every pilot, and even the stuff that never got made. It's one of the few books about the history of a TV production company and its a strong one…and for that reason alone, Irvin and McFarland & Co are to be commended. This is clearly a labor of love for author and publisher…because outside of a few diehard TV historians, and TV geeks like me, I can't imagine there's much, if any, market for a book with such a narrow focus. Unlike Roy Huggins, this is not a book that is a must-read for scholars or wanna-be TV show runners. You'd have to already be interested in the shows that George Burns produced, or in unsold pilots in general, or in 1950s and 60s TV history, to find this book worthwhile. For me, it was a home run. I loved it.
A note on my biases/possible conflicts of interest: I bought my copy of Roy Huggins, because I have a strong interest in his work. I've admired Huggins since I was a kid. I interviewed Huggins many times during my career as a journalist. In fact, I went into this expecting to be disappointed, to find very little "meat," lots of errors, and to learn little that I didn't already know. I was very pleased to be wrong. I've also worked with Jo Swerling Jr., who is quoted frequently in the book, during my time as a writer/producer at Stephen J. Cannell Productions. And, finally, I was a writer on Hunter, but several seasons after Huggins produced the show.
I received a review copy of George Burns Television Productions from McFarland & Co, which published my reference books Unsold Television Pilots, Television Series Revivals, and Science Fiction Filmmaking in the 1980s over twenty years ago.