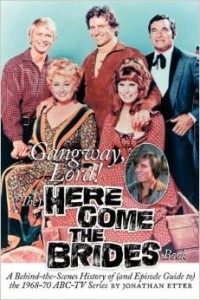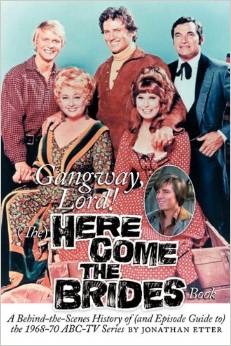 I have an addiction — I love books about TV, even if they are about shows I don't like or have never watched. I buy them on the off-chance I will learn something about the business, or about production, or about writing that I didn't know before. I especially like books about old TV shows, because then I also learn something about television history. I'm telling you all of that so you'll understand what possessed me to buy Jonathan Ether's 640 page book devoted to Here Comes the Brides, a boring, utterly forgettable western series that lasted a mere two seasons in the late 1960s that is known, if at all, for a catchy theme song ("Seattle") and for featuring Bobby Sherman and David Soul in the cast.
I don't care about the show — the few episodes I've seen were lousy — but I really liked Etter's The Here Comes the Brides Book: A Behind the Scenes History of the 1968-70 ABC TV Series from those crazy folks at Bear Manor Media (they've got to be crazy to publish books like this… but I love them for it). So why did I like the book if I could care less about the show? Because it's packed with fascinating information about other shows. For instance, William Blinn, creator of Here Comes the Brides, spends a lot of time in the book talking about writing the TV series Bonanza and Shane….and that's great stuff. And Brides' star Robert Brown talks about almost starring in Hawaii Five-O, and his work on the unsold pilots The Yellow Bird with Carroll O'Connor and Colossus with William Shatner, among others. So it's for those golden nuggets that I was willing to slog through seemingly endless, pointless chapters about actress Bridget Hanley (who?) and her marriage to director E.W. Swackhamer, or the tragic details of Mark Lenard's multiple melanoma that took his life long after the series was over. The book desperately needed a good editor, but I'm glad it didn't have one, because it's the stuff that had nothing to do with the show, that should have been cut, that I liked best. But if you are one of the dozen living fans of Here Comes the Brides, you will absolutely love this book. Every episode is examined in-depth and every regular and guest cast member, and almost every crew member, with the possible exception of the caterer,  are interviewed about their lives and careers.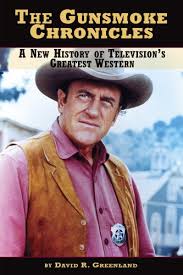 Here's the irony of me liking a book so much about a show that I could care less about: I bought David R. Greenland's The Gunsmoke Chronicles: A New History of Television's Greatest Western from Bear Manor Media because I love Gunsmoke, and yet I got nothing out of it at all. It's a pointless book, a bland rehash of material presented better, and in more depth, by other books about the show. Oddly enough, Greenland acknowledges that fact in his preface: "By 2006, three books about the show had reached the marketplace, and even I conceded that the world did not need another." And yet, he wrote one anyway, and shouldn't have bothered, because he adds nothing new or particularly interesting about the series. It's filler masquerading as content. Unlike the Here Comes the Brides book, there's no gold here about other shows to make it a worthwhile purchase. Skip it.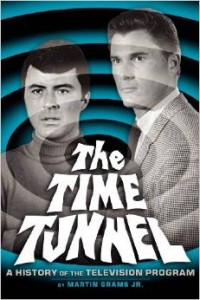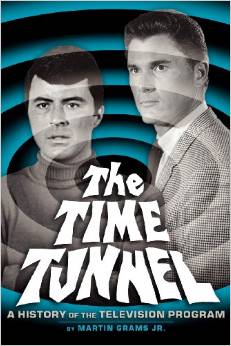 Martin Grams Jr's The Time Tunnel: A History of the Television Program, also from Bear Manor, is much like the book on Here Comes the Brides. It's massive book (nearly 600 pages)  about a TV failure (it lasted a single season) that's packed with lots of interesting information…about Irwin Allen and his other shows and about the TV landscape in the late 1960s. Everything you could possibly want to know about Time Tunnel is here, from the original pitch to information on all of Allen's attempts to do another time travel series after it was cancelled, from the number of pages shot on a particular day to the cost of individual props, from the notes from ABC censors on each script to lists of the stock music cues in each episode, from exhaustively detailed synopses of each of broadcast episode to detailed descriptions of the episodes that weren't shot. There's almost too much stuff.  It's as if Grams decided he had to put every single fact that came across his desk into the book just because he had them. The upside is that there's something for everybody here, whether your interest is in TV production accounting or screenwriting. The downside is that it makes for tedious reading, even if you are really into the show or into TV history.
NOTE: I bought all three of these books. They were not provided to me for review.