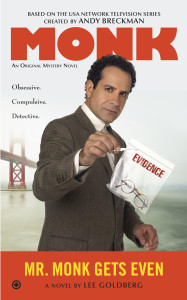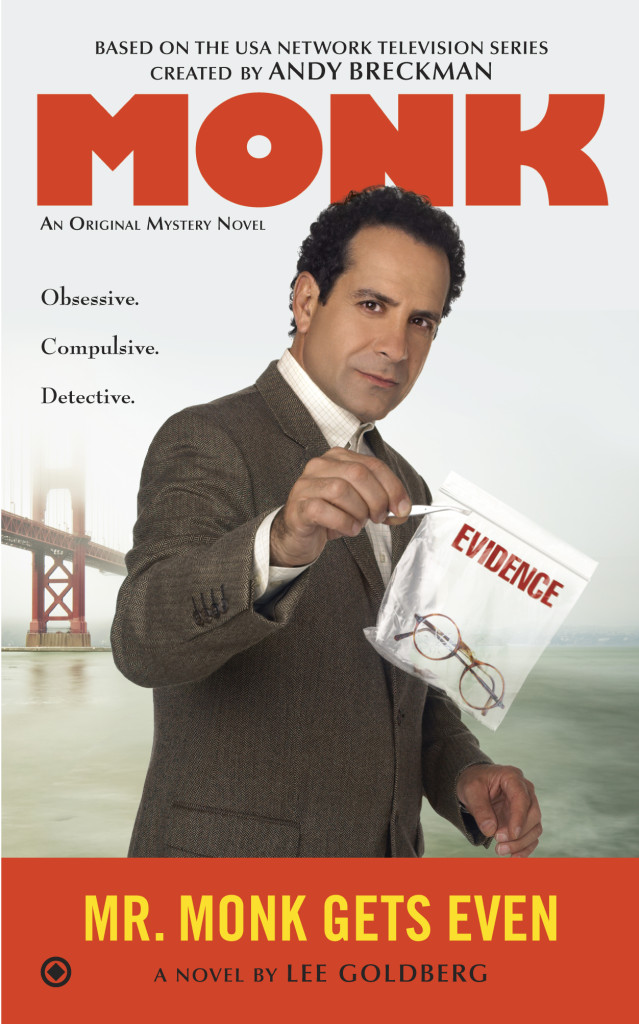 Here are a bunch of questions I've received lately about Monk. There may be spoilers ahead.
I just saw an episode of Monk that revealed Trudy's killer as a college professor she had an affair with and had his baby. In your books you keep saying the murder hasn't been solved. Can you explain? I still have several of your Monk books to read so the answer may be in the unread books. Thanks on advance for your feedback. Darla
That's not the case. My books came out while the show was still on the air. The first book of mine that acknowledges the solving of Trudy's murder is Mr. Monk on Road. I wrote four more MONK novels after that…all of which acknowledge that Trudy's murder has been solved.
Hello Lee

First of all let me begin by telling you what a big fan I am of the Monk TV series AND your books. I was so upset when the TV series ended but your books allowed me to go on 'watching' it. One thing that I'm curious about though: why did you have to make Randy Disher leave for New Jersey? He was one of my top favorite characters in the series (I actually love all the characters and especially Sharona too). Anyway, just wanted to know why you had to replace Randy with Amy – you can tell I don't like change much! 😛

Thanks!
Nyain from South Africa.
Disher left San Francisco for New Jersey in the final episode of the MONK television series, so I was just picking up where they left off.
I JUST READ "MR. MONK AND THE TWO ASSISTANTS" . I HAD NO IDEA THIS SERIES EXISTED. I WOULD HAVE LIKED TO SEE THE TV SERIES GO ON FOR ANOTHER 10 YEARS OR SO. THIS IS THE NEXT BEST THING. I CAN ACTUALLY VISULIZE THE CHARACTERS AS I READ THE BOOK. I LAUGH OUT LOUD. I INTEND TO READ ALL OF YOUR "MR MONK" BOOKS.
I HAVE READ ALL OF PARKER'S BOOKS. HIS BOOK COVERS ALWAYS SHOWED HIM IN A LEATHER JACKET AND BOSTON BALL CAP. I REMEMBERED THAT WHEN READING ABOUT "LUDLOW'S" BOOK COVERS.
I ENJOY YOUR WORK. TRAVIS
Thank you so much, Travis! I hope you continue to enjoy the MONK books. Your note reminded me that I need to change my author photo and put on a leather jacket.
how about you write a book with Mrs. Monk still living, perpetrating the neurosis later found in her kids? I would read it..!
Sorry, I am not writing the books anymore…and if I was, I wouldn't write that.
I recently read the new novel Mr. Monk Helps Himself  by Hy Conrad. It really sucked. […] Please, please reconsider coming back and writing another Monk book or at the very least talk to Hy Conrad and tell him where he's gone wrong. I will have to content myself with rereading all your Monk novels. I miss the old Monk.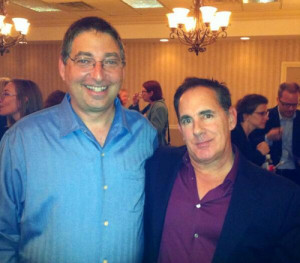 Thank you, I appreciate your kind words but I am done with Monk… It's Hy's series now and I wouldn't presume to tell him how to write it. That said, I have to disagree with you. I think he's doing a great job.
I am trying to find someplace that I can purchase the entire series of the Monk books, and keep hitting dead ends. Just wondering if you might know somewhere that this may exist. […] They are too expensive to purchase individually, and I'm hoping to get a better deal by finding the complete set.
You didn't look very hard. You can find complete sets on ebay…or partial sets that you can buy to create a complete set…or you can find them from used book dealers on the Internet for as little as 1 cent each. I think you just wanted me to send you 15 books. Sorry, I don't do that.
through reading janet evanovich's books, i discovered you and the monk books. is the book, mr. monk on the couch, the last book of the series?
No, the last of the 15 Monk books that I wrote is Mr. Monk Gets Even. That said, Hy Conrad has continued the series and has written several more great books.
I find Monk irritating and wish you would write a book where he's normal.
Well, then it wouldn't be Monk book, would it? I think people read the Monk books because they like the Monk character. If you remove what makes him Monk, then he isn't Monk any more.