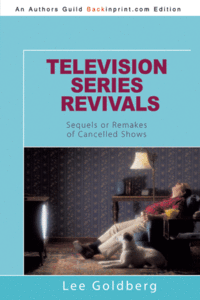 Did Gilligan and his fellow castaways ever get rescued? Is Dr. Marcus Welby still making house calls? Is Marcia Brady single? What kind of father did Beaver Cleaver grow up to be? Those burning questions and many, many more about your favorite TV characters are answered in my book Television Series Revivals:  Sequels and Remakes of Cancelled Series, which examines every TV series remake and sequel produced from 1955-1992.
The book, which was originally published in hardcover in 1993 by McFarland & Co., is now available in a $16.95 trade paperback edition from iUniverse through the Authors Guild's Back-in-Print program (and at no charge to me).
The sequels and remakes of nearly one hundred shows, from ADAM-12 to WKRP IN CINCINNATI, are examined in detail and include airdates,  cast lists and production credits. There's also a special section on animated revivals and sequels, like STAR TREK and GILLIGANS ISLAND. 
Here's what Booklist had to say about the book:
Have you ever wondered what happened to the castaways on "Gilligan's Island"? Many people have, and that is why producers, directors, and actors come together to revive canceled shows for reunion specials, feature films, or whole new series. Television Series Revivals is a compilation of information on the various mutations original series have undergone since cancellation. "Star Trek" is a good example of this phenomenon. It originally aired on network television in the late 1960s. Due to the immense popularity of the show in reruns and its cultlike fan clubs, the series was revived, first as a cartoon series, then as a series of motion pictures, and finally as a new series, "Star Trek: The Next Generation."

Entries are arranged alphabetically by original series title. Each entry follows the same format: the air dates and network of the original series; a plot synopsis for the revived series, film, or special; background information on the show; the title of the new show; its network and broadcast date. Information about each show came from a variety of sources: releases, reviews, and periodical articles. Plot synopses may be a bit confusing as the author combines the plots of all revivals, sequels, or remakes into one narrative. For a series such as "Eight Is Enough," which was followed by "Eight Is Enough: A Family Reunion" and "An Eight Is Enough Wedding," it is difficult to tell where one story line leaves off and another begins.

For a series to be included in this volume it must have featured continuing characters and have been in cancellation for at least one year, not simply on hiatus. Certain kinds of shows are not included: those based on literary characters (e.g., Sherlock Holmes); anthologies (with the exception of "Twilight Zone" and "Alfred Hitchcock Presents"), variety shows, and game shows.

An appendix listing "Animated Revivals" and a bibliography of related titles round out the work. The index includes show titles, actors, and producers and directors. Black-and-white photos of cast members are provided for some shows.

As long as television viewers express nostalgia for the shows they once watched, producers will continue to revive them. Public library customers and librarians will find Television Series Revivals a useful and entertaining volume.