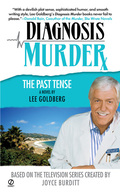 My ten author copies of DIAGNOSIS MURDER: THE PAST TENSE arrived today (coincidentally, my brother Tod got his author copies of SIMPLIFY today, too). This is my fifth book in the DM series, and maybe the 20th book I've written, but the thrill of opening that box of author copies hasn't worn off. I still get excited holding the book for the first time, flipping through the pages, picking out paragraphs at random to read. I even like the smell. It's like I need to confirm to myself that it's real…because I'm still insecure enough to be surprised that I'm getting published at all.
On the other hand, I don't get a charge out of seeing my name on screen any more. It took me four of five episodes before I noticed my "Creative Consultant" credit was missing from MISSING (it had been dropped due to Canadian content requirements). The studio pulled it and didn't tell us. They assumed we wouldn't notice. Shockingly, they were right. I wish that wasn't true…I miss the thrill I used to get from seeing my screen credit.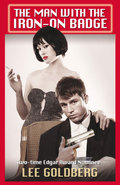 I also got my cover for THE MAN WITH THE IRON-ON BADGE over the holiday weekend. Seeing a bookcover for the first time is almost as exciting for me as getting that box of books, but in an entirely different way. Here's why: by the time the books come, I've already seen the cover and the typeset manuscript, but not all of it together as a genuine book. I know what's going to be in the box when I open it. But when the bookcover arrives, it's a complete unknown… I have no idea what it will look like (or if I will hate it). I usually can't wait to get my hands on the book-jacket and that hasn't changed, even with the DM books (which look more-or-less the same every time but change elements within the established template).
I'm glad the thrill hasn't waned for me yet…and I hope it never does.
(Click on the pictures for larger images. Thanks to Keith Snyder for transfering the PDF for me!)
UPDATE (7-8-05): Author Alison Kent discovered that sometimes there's a darkside to getting your authors copies…
You know, I love author copies. It is so much fun to actually get your hands on a book in print. And then you turn it over. And you read the back cover copy. And they mention your heroine Erin Thatcher by calling her ERIN FLETCHER!!! What the heck are these people smoking???