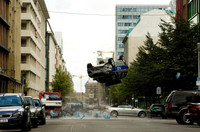 I'm nearly at the end of post-production on FAST TRACK. Thanks to the Internet, I am able to do a lot of the work from home rather than having to be in Germany.
Dirk Leupolz, our composer, uploads scenes with his score to a server, then I log on, download the Quicktime files, watch them and give him notes. The same goes for each cut of the main title sequence. This weekend, Dirk sent me the final scenes of the movie as well as some "fixes" on earlier scenes. I am really pleased with the way the score has turned out…and can't wait for my own CD.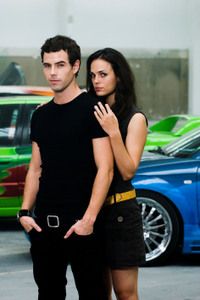 The editors and graphics team did a fantastic job on the main title sequence. It looks and sounds great…all that's left now is to choose the font, size, and actual placement of the credits that play out over the first scene or two of the movie (I've already approved the credit lists, and the order of the credits, for the German and International versions of the move).
I'm red/green colorblind, so I entrusted the color correction of the movie to our director Axel Sand (who is also our director of photography) and our line producer Heiko Schmidt. They are also overseeing the German-language dubbing, though I approved the voices for the non-German actors (I didn't understand what they were saying, but I could judge the performance and the sound…I was sent scenes dubbed with the German voice auditions).
My final remaining post-production task is to oversee the final sound mix…when we bring together all the music, sound effects, and re-recorded dialogue for the English and German-language versions of the movie. I'll fly back to Germany at the end of the month to do that.
And then the movie/pilot will be complete.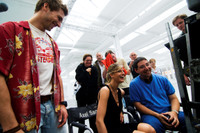 But my work is far from over. I'm keeping a close eye on the promotional and publicity materials (the posters for MIPCOM and AFM, sales brochures, etc.) and am working with our international sales team to sell FAST TRACK to networks in the U.S., Canada and other territories.
Today, my family and I had nice lunch with Erin Cahill, one of the stars of FAST TRACK, and then she and my daughter Maddie spent the afternoon shopping together. Maddie just adores Erin and so do we. I've been staying in close touch with the cast and crew…and I'll be heart-broken if we don't get the opportunity to keep working with together.
(The FAST TRACK photos are by Gordon Muehl and Stefan Hoederath).