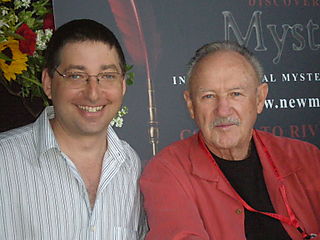 J. Allen Eskridge III, Kentucky's assistant Secretary of State, made my day at a packed ceremony at RiverPark Performing Arts Center. On behalf of the Governor and the Secretary of State, Eskridge presented Gene Hackman with a scroll commissioning him as a Kentucky Colonel, the state's highest honor, and told the Academy Award winning actor that he would be joining a distinguished list "that includes Winston Churchill,  Muhammad Ali, and Lee Goldberg." I'm sure Gene was very flattered to be in my company.
My friend Bob Levinson also became a Colonel today, and an honorary judge, and got the key to the city. Stuart Kaminsky got all that stuff, too. The Jews are invading Owensboro. Expect a Kosher deli to open on Main Street any day now.
I'm guessing about 500 people lined up to have Gene Hackman sign their books. It must have been a shock to Mary Higgins Clark. For perhaps the first time in decades, her signing line was shorter than another attending author's. If her ego was bruised, she didn't show it. She was elegant, charming and gracious, as usual. I won't tell you how long my line was. Let's just say I was a distant third. Or maybe fourth.
I'm sneaking  out for some more BBQ now before CSI creator Anthony Zuiker screens some clips from his show and answers questions  on the big, out-door stage. I'll try not the stain my shirt.
(A big thank you to Bryan Leazenby of Onsite Images for taking the photo)