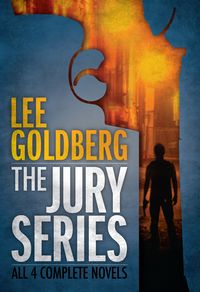 New for 2011! The Jury Series
From Lee Goldberg, the bestselling author of  THE WALK, comes all four of his acclaimed JURY novels..collected into one totally reformatted, repackaged, mega-sized, pulse-pounding, thrill-ride that will leave you breathless:
JUDGMENT * ADJOURNED * PAYBACK * GUILTY
The JURY SERIES is the complete saga of Brett Macklin, a one-man judge, jury, and executioner, fighting a war on terror on the streets of Los Angeles in the mid-1980s. Over 160,000 words/550 pages of non-stop action, wildly erotic sex, and wicked humor.
"As stunning as the report of a .357 Magnum, a dynamic premiere effort […] The Best New Paperback Series of the year!" West Coast Review of Books
The series, published in 1985, under the title ".357 Vigilante," was written by Ian Ludlow… a pseudonym for Lee Goldberg, who wrote the books while he was a UCLA student, under the supervision of his professor, novelist Lewis Perdue ("The DaVinci Legacy," "The Queensgate Reckoning," "Daughter of God," etc). Goldberg would later go on to write and/or produce such TV shows as "Monk," "Diagnosis Murder," "SeaQuest," and "The Glades" and write many more novels, including THE WALK and the best-selling "Monk" series of original mysteries. 
CRITICAL ACCLAIM FOR LEE GOLDBERG:
"A high-octane mystery that moves like a bullet-train!" New York Times Bestselling author Janet Evanovich
"Can books be better than television? You bet they can — when Lee Goldberg's writing them," New York Times bestselling author Lee Child
"Leaves you guessing right up until the heart-stopping ending," New York Times bestselling author Lisa Gardner
"Lee Goldberg can plot and write with the best of them," Mystery Scene Magazine
"Entertaining and ruefully funny," Honolulu Star Bulletin
"THE WALK is a magnificent novel — by turns hilarious, scary, sad, witty and ultimately wise on its judgments about the way so many of us live these days. And it's one hell of a page-turner, too," Author Ed Gorman, founder of Mystery Scene Magazine
"Harrowing and funny…" -Ellery Queen Mystery Magazine 
"With books this good, who needs TV?" Chicago Sun Times
"You'd be hard-pressed to find another recent work that provides so many hip and humorous moments," Bookgasm