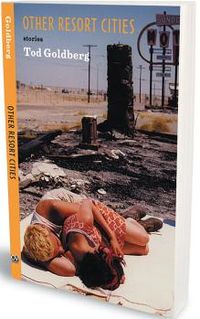 The Sunday Los Angeles Times Book Review gave my brother Tod an early Christmas present today. Their rave review for his short story collection OTHER RESORTS CITIES is already up on their website. Here's an excerpt:
Goldberg, whose previous books include the novel "Living Dead Girl," a finalist for the Los Angeles Times Book Prize, and the story collection "Simplify," is a master of presenting the dark matter of the human psyche in beguiling, sometimes fantastic, inventive ways. This collection gleefully introduces uninitiated readers into Goldberg's richly comic voice and his continued preoccupation with our potential for violence and self-deception.[…] The restraint, lyricism and deceptive simplicity of the story's architecture astounds with its heart-rending resonance. What Goldberg taps into most beautifully is the impulse to retreat from the chaotic complexity of the world, the ubiquitous temptation to inhabit the pristine model-home lives of our dreams.
Is there another Los Angeles Times Book Prize nomination in Tod's future? I wouldn't be surprised.