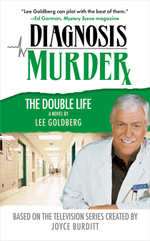 In case I forgot to mention it, my seventh DIAGNOSIS MURDER book, THE DOUBLE LIFE, is now available in finer bookstores, truck stops, and places of worship nationwide.
I like to think of THE DOUBLE LIFE as the second book in an unofficial trilogy that began with DIAGNOSIS MURDER #5 : THE PAST TENSE and that will conclude in May 2007 with the eighth and final DM novel, the appropriately titled THE
LAST WORD.
You can order your very own signed and/or personalized copy of THE DOUBLE LIFE from the friendly mystery babes at Mysteries To Die For, who will gladly send your order anywhere in the world…and to most State and Federal prisons.