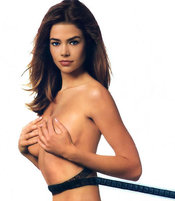 That got your attention, didn't it? UPN has shut down production on the Denise Richards series SEX LOVE AND SECRETS after only one airing and with just eight of the show's 13 episodes shot. Daily Variety reports that the network will air the seven remaining episodes and then re-evaluate the show's future (yeah, right). Barring a miraculous, sudden surge in ratings, the show is dead. NBC's fertility clinic drama INCONCEIVABLE and FOX's police procedural KILLER INSTINCT may be the next shows smothered in their sleep.
With ""Inconceivable"
going nowhere at 10 (prelim 1.5/5 in 18-49, 4.6 million), and Fox, with "Killer
Instinct" a distant fourth at 9 (prelim 1.5/5, 4.6 million), were well behind
CBS with a 1.6 average in 18-49. Both almost certainly will make sked
changes before November sweeps.
Meanwhile, Bob Saget is returning to television…no, not in yet another season of AMERICA'S FUNNIEST HOME VIDEOS, but as the star, producer and co-writer of EDDIE'S FATHER, which Variety described as an "R-rated version of 'The Courtship of Eddie's Father.'"
Saget will play a divorced dad who works as a gynecologist in Phoenix. Show will
focus on the character as he balances raising a 14-year-old son while trying to
lead as active a social life as possible.

"The show is my son and I going through adolescence at the same time," Saget
explained. "What makes it exciting is that because I'm working with HBO, I'll
get to use the same language in the show that I use with my own kids, which is
just very honest and real."