Walker is back. Chuck Norris is returning to Dallas next month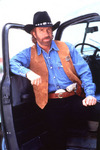 to shoot "Walker Texas Ranger: Ring of Fire," a two-hour movie for CBS that producer/director Aaron Norris hopes will relaunch the franchise, which was cancelled in 2001. Norris tells Variety:
"Reunions are more about one-offs," he said. "I would like to do more of
these."

To that end, action in "Ring of Fire" will pretty much pick up "as if we've
been doing the show the whole time," with Walker simply doing what he's always
done: collar criminals and kick bad-guy butt (and not necessarily in the that
order).

Plot of "Ring of Fire" has Walker investigating whether one of his Ranger
buddies is a serial killer — or just being framed. He'll also try to track down
a teen on the run from a crime syndicate.
The big question is, will Chuck still sing the theme song?