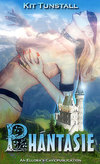 The Smart Bitches Who Love Trashy novels tackle some E-book covers…and the results are laugh-out-loud funny. Here's a sample, referring to the book cover on the left:
Beavis: Whoa!

Butthead: WHOA!

Beavis: She's like, naked! With armbands!

Butthead:Huh huh. Yeah.

Beavis: And she's gonna get stabbed by that CHURCH! YEAH!

Butthead: Huh huh.That's cool.

Beavis: Stab her! Stab her in the BUTT!

Butthead: Huh huh huh huh. Tell her to move her hand first so we can see her boobs.

Beavis: Yeah! BOOBS

Butthead: Yeah. Huh huh.
Me, I'm curious about the author's name. "Kit Tunstall?" What kind of name is that? It sounds like a particularly unpleasant procedure involving the colon.