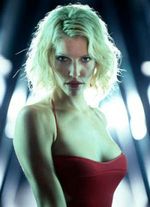 On NIP/TUCK last week, one of the characters had a long conversation at a bar with someone who wasn't there — an old lover who ran off to France. But as I was watching the scene, I realized what seemed like a novel notion just a few years ago — characters talking to full-bodied ghosts/figments of their imagination — has rapidly become a cliche. Now the technique is being used everywhere you look on TV and in every genre you can think of. SIX FEET UNDER, NIP/TUCK, BATTLESTAR GALACTICA, GHOST WHISPERER, LOST, MEDIUM,
MISSING, and MONK are just some of the shows that regularly employ the "talking to people who aren't there" gimmick. I don't know for sure where it started (SIX FEET UNDER?) but it's become a staple now of dramatic television. And it's stupid. Think about it — when was the last time you, or anybody you know who isn't institutionalized, believed they were seeing and talking to someone who, actually, wasn't there?
(Oh, and a caveat — this rant is coming from someone who has used the gimmick once or twice himself).