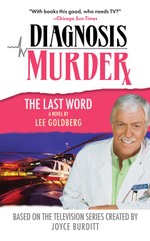 I have been getting lots of emails about THE LAST WORD, the final DIAGNOSIS MURDER novel. I would say that 95% of the response has been positive…the rest, well, far less so. Here's a small sampling of some of them:
From Patrick Casey:
I finished reading "The Last
Word" last night and I must say that it is a spectacular book. I enjoyed
how you brought back a lot of the old enemies of Mark, and giving him his
greatest challenge yet. As I was finishing reading the last chapter of the
book at tear started to roll down, knowing that this is the end for the
characters. The last line of the book is exactly what this series was
about. Thank you for giving us fans a wonderful ending for this wonderful
TV show. I hope that one day down the road you will revisit the books and
give us more of Dr. Mark Sloan and family.
From Patty Kavaitis:
I just finished it. It kept me so enthralled that
I literally could not put it down-read it at one go. You
did not let us down, you kept the family together, and left the door
open for new adventures. Sweeney's insidious plan was so intricate I
almost felt like pulling out pencil and paper to keep track of who did
what and who knew what–and to connect all the dots of the not so
coincidental connections…
From Betty:
If it wasn't for Dick Van Dyke's photo on the cover, I'd have sworn I
was reading bad fan fiction. 'The Last Word' lives up, or should I say
down, to its name by completely destroying the lives and careers of the
characters. I particularly hate the characters being subjected to the
state-sponsored kidnapping also known as wrongful arrest and
imprisonment; without the slightest hint of any form of redress at the
end. For me this book caused tears and a nightmare. This series could
have ended in style with *satisfactory* resolutions; including other,
positive reasons for Mark and Steve to decide it was time to quit
medicine and solving murders, respectively. And by the way, destroying
the characters means that the baddies win after all. What kind of a
message is that to send?
From TommyH:
I enjoyed The Last Word, and think you have done a great
job in taking the characters from the TV series and making them more 3
dimensional and interesting. While the TV show was entertaining, the
books blow the series out of the water, because they expand on familiar
characters/plot and make them more realistic. The books have improved
on the television series, and I just hope that The Last Word is not the
last book
From Maria:
I've just finished reading The Last Word. This tied in very well
with #5 and #7. I like the ending, which leaves you with so many possibilities
to continue the story in so many different ways, if so required/wished to do
so. Only one problem…I lost a few hours sleep in finishing reading it…>really a great read, great story and a great 'ending'.
From William Simon:
I have to tell you (for what my opinion's worth), you blew
me out of my chair. You scared me at about the 3/4 mark; how the F***
was Mark going to get out of THIS jam? Usually, I'm a little better
than average at figuring things out (a legacy from being raised on
Ellery Queen I suppose), but you took me by surprise all the way around. My compliments, amigo. A well done novel, a nice tribute, a fitting end
to the series.
From Nwolynetz :
The critics were right it was tooooo dark. I don't think it was a
fitting end to the series, you made Dr. Sloan and his "family" and his
past exploits irrelevant. Your dimensions were way off. I loved all of your past books but not
this one. I have reread all of your other books more than once, but
will never reread this one. Stop reevaluating your characters and keep
them as lovable as they once were. I have few authors I enjoy and you
have been one of them, please don't disappoint me again. Thanks for
giving me a chance to vent my frustration.
From Richard L. Moore:
I just finished THE LAST WORD and I do think, in my humble opinion, that it was a fitting end to the series. I enjoyed the book, couldn't put it down as I had to keep reading to see what happened. The ending was just great.