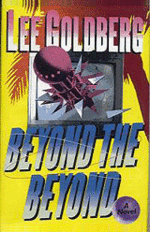 As I mentioned here before,
I've got hundreds of copies of my book BEYOND THE BEYOND clogging up space in my garage (reminder to self: never buy more than 100 copies of my own remaindered book).
My mistake is your gain. I'll be glad to send you a signed copy BEYOND THE BEYOND for $9.99, which includes media mail postage to anywhere in the United States.
BEYOND THE BEYOND is about ex-cop Charlie Willis, who handles
"special security" for Pinnacle Pictures. His job: to protect the
studio and its stars, to stop scandals before they explode, to the
keep the peace in the land of make-believe. How he does it is up to
him. In this book, a sequel to "My Gun Has Bullets," he has to protect
the president of a fledgling TV network from an assassin, an A-list
screenwriter from his homicidal agent, and the cast of a cult TV series
from its legion of rabid,
homicidal fans.
Here's a sampling of the critical praise for the book:
"Goldberg uses just about everything he can think of to
send up the studio system, fandom, Star Trek, Trekkies, agents, actors…
you name it, he'll make you laugh about it." Analog

"An outrageously entertaining take on the loathsome folkways of contemporary
showbiz,"Kirkus Reviews

"Mr. Goldberg has an observant eye and a wicked pen!" Washington Times

"Beyond the Beyond reads like a modern-day Alice in
Wonderland set against the venal world of the TV industry. It's
wonderfully revealing and uncannily accurate," Vancouver Sun

"Stingingly funny! B+" Entertainment Weekly

"Some of the easily recognizable actors, agents and producers who
are mercilessly ribbed may find
it hard to crack a smile at the author's gag-strewn prose. Likewise
those seekers after politically correct entertainment. But the rest of
us should have no trouble….the novel's satiric slant is strong enough
to have an effigy of Goldberg beamed into outer space at the next Star
Trek convention," Los Angeles Times
And yet, there were still 600 copies that didn't sell. Even with a
giant penis on the cover. Can you imagine that? If you'd like to buy
one of them for $9.99, just click on the button below: