Variety reports that NBC's cop show HAWAII has been cancelled.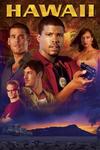 We should start seeing the full-page advertisements from the fans, clamoring for its return as a feature film with the original cast, appearing in the trades in about 25 years. Mark your calenders.
Ivan Sergei is now officially tied with Jason Gedrick as the kiss of death for any TV show.