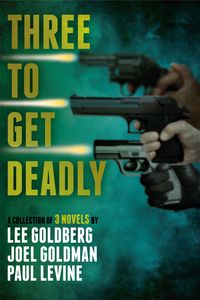 You gotta grab THREE TO GET DEADLY…a trio of stunning bestselling novels of action and suspense from three masters of the craft…in a single, thrill-packed volume!
TO SPEAK FOR THE DEAD by Paul Levine
Linebacker-turned-lawyer Jake Lassiter suspects his client, a surgeon in a malpractice case, is innocent of negligence…but guilty of murder. Add a sexy widow, a deadly drug, and a grave robbery to the stew, and you have the recipe for Miami's trial of the century. 
"Move over Scott Turow. 'To Speak for the Dead' is courtroom drama at its very best." – Larry King, USA Today
MOTION TO KILL by Joel Goldman
When two of his partners are killed, corruption, sex and murder fill trial lawyer Lou Mason's docket as he tracks the killer. Will Lou be the next victim? 
"Joel Goldman is the real deal!" John Lescroart, NY Times Bestselling author
THE WALK by Lee Goldberg
A massive earthquake devastates L.A. One ordinary man sets across the landscape of destruction to his home in the San Fernando Valley. It's a journey that will test the limits of his endurance and his humanity, a trek from the man he was to the man he can be… if he can survive The Walk.
"THE WALK is a magnificent novel — by turns hilarious, scary, sad, witty and one hell of a page-turner, too," Mystery Scene Magazine
Don't miss THREE TO GET DEADLY! Find out for yourself why these books have rocked Amazon's bestseller lists!