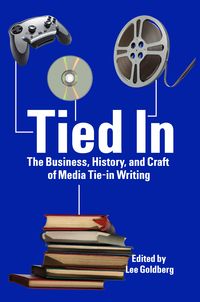 Author/blogger Ed Gorman, founding publisher of Mystery Scene Magazine, has given TIED IN an incredibly flattering review.  He says, in part:
I say this without a whit of exaggeration: TIED-IN edited by Lee Goldberg, and written by Lee and other members of the International Association of Media Tie-In Writers, is the most fascinating, entertaining and honest book about the writing life I've ever read. […] we see the pleasures and frustrations of this particular craft. And in the process we see what life is really like for professional writers.
[…]TIED-IN is rich with humor, lore, wisdom about the writing life
Thank you so much, Ed! And Mark Baker, one of Amazon's top reviewers, has also given TIED IN a rave. He says, in part:
We get a look at every kind of tie-in imaginable. There are the books based on TV series, as covered by Donald Bain (author of the Murder, She Wrote books), Tod Goldberg, and William Rabkin. Max Allan Collins discusses his two most frustrating novelizations of movies. Is writing for a YA crowd harder or easier? You'll get the answer from Aaron Rosenberg. Writing a novel based on an entire season of episodes, novels based on comic books, and writing novels set between movies are all discussed. […]My respect for tie-in writers has really grown as a result of reading this book. One of the repeated facts is their short deadline. We're talking weeks to complete a book. And that's with multiple people telling them how the book should be written. This isn't easy work.[…]if you enjoy reading about the adventures of your favorite screen characters, this is a book you need to check out. You'll love getting a peak behind the scenes at how authors create these further stories.
Thanks, Mark!