Production on FAST TRACK: NO LIMITS begins in just a few days. The casting is done, the cars are here being transformed into racers, and the stunts are being tested. Now the fun really begins.
I've been spending most of my time the last few days rehearsing with the lead cast members, going through the script scene by scene, discussing the conflicts and finding the emotional turns together, and then working them out in performance. I'm so lucky to be working with these young actors. Besides being talented, hard-working, enthusiastic, and great looking, they are unbelievably nice. The whole crew is falling in love with them.
For me, working so closely with them is exciting on another level. In a way, they are my imaginary characters come-to-life, which is exhilirating and a little unnerving. I'm the writer, so there´s no doubt that the characters represent some aspect of my own personality, weaknesses, desires, experiences, fears, and dreams. To see those aspects of myself — who I am, who I want to be, who I desire, who I can never be, etc — reflected back at me in flesh-and-blood is one of the great things about being a screenwriter and a producer.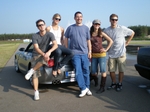 Yesterday, we all went out to a race track outside of Berlin for driving school with our stunt coordinator, stunt drivers, and our second unit action director. It was incredible. We all got the chance to drive three BMWs 5-series and one BMW z4 on a wet track, learning how to drift around a curve, do a 180, and how to drive backwards & spin the car forward again, among other things. We also rode with the stunt drivers as they drifted, spun-out, and rammed one another…it was like playing bumper cars with real cars. I've never done anything like that…and I loved it. So did the actors and it showed in their performances today in rehearsals when we got to the car scenes. (That's me with Joseph Beattie, Alexia Barlier, Erin Cahill and Andrew Walker after a day of stunt driving. Could my smile be any bigger?)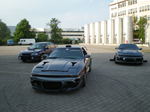 Speaking of cars, we have three of each vehicle — a "picture car" for the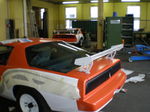 beauty shots, one with the camera rigging, and one for the big stunts. We are starting with stock production cars and then "pimping them" inside and out for the stunts. Our cars include a 1965 Mustang, a BMW Z4, a Toyota MR2, a Toyota Supra, a Nissan ZX350, a Subaru Imprezza, a Pontiac Trans Am, and an Opel Tigra, to name a few. We´ve also recruited 50 amazing cars from the "tuning" scene in Germany for the racings and as color at the starting line. Every day I wander down to the shop to see how the cars are being transformed and to watch the stunt drivers testing them. The shots you see here are some of the naked cars in the very, very early stages of the work…
Tomorrow there are more rehearsals, more meetings, and on Saturday, a table-reading with the entire cast.