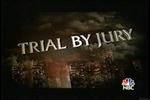 Variety reports that Dick Wolf's LAW AND ORDER: TRIAL BY JURY, cancelled after 12 episodes (one never aired), won't disappear into oblivion with DEADLINE, FEDS, CRIME AND PUNISHMENT and L.A. DRAGNET just yet. Court TV is playing $5 million for the 13 episodes…and will promote the airings by having Wolf appear on Catherine Crier's show, among others. While it's unusual for a cable net… or any net…to pay so much for reruns of such a short-lived show, there are some other unusual aspects to the deal:
Court TV is ponying up $400,000 an episode for exclusive four-year cable-TV
rights to nine of the 13. For the four other episodes, Court TV will pay closer
to $300,000 apiece, with TNT shelling out the rest, because the four featured
the late Jerry Orbach, who had shifted over from the original "Law & Order"
series.

Orbach had inhabited the role of Det. Lennie Briscoe from the 1992-93 season
to the 2003-04 season of "Law & Order." Dick
Wolf Prods. series is one of TNT's bellwether programs,
consistently one of the highest-rated rerun series on cable TV. Because Court TV
will take more runs of the Orbach episodes of "Trial by Jury," it will pay more
in license fees than TNT.

Court TV plans to run "Trial by Jury," which stars Bebe Neuwirth and Fred
Dalton Thompson, Saturdays at 7 p.m. in a two-hour block beginning in December.
There'll even be one U.S.-premiere episode that never saw the light of day on
NBC.