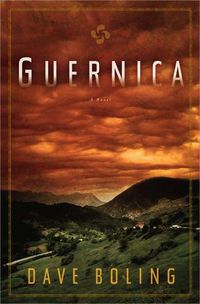 I've read two great books in the last couple of weeks but never got around to reviewing them here… Sara Gruen's WATER FOR ELEPHANTS and Dave Boling's GUERNICA. Of the two, I'd say it's GUERNICA that has stuck with me the most. I really loved it, even if I did see the big plot twist coming hundreds of pages away. 
I was lured to GUERNICA by the ads in the London subway that featured blurbs comparing it to CORELLI'S MANDOLIN and BIRDSONG, two other books that I really liked. So I ran out to buy it, thinking I'll never find the book at home…of course, it turns out to be a UK reprint of a U.S. book by a Washington state sports writer. No matter, I devoured it on the flight home. So I guess the lesson here is that subway ads actually work.
My Mom recommended WATER FOR ELEPHANTS to me, and it was my sister Karen who recommended it to her. So I figured it had to be good. It was. 
Both books are historical epics of a sort. WATER FOR ELEPHANTS is set in the present-day, with an elderly man remembering his youth in a low-end, traveling circus in the early part of the last century.
GUERNICA follows the history of the town, from the mid-1800s through its devastation during the Spanish Civil War, from the perspectives of several colorful characters. Both books are filled with their fair share of melodrama, humor, and tragedy…and are utterly compelling, highly entertaining reads.