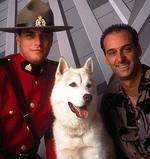 The new, living definition of "pathetic": someone who searches the Internet for masturbation fanfic:
Do you have any idea how difficult it is to search for wanking fic? I mean, are
there any useful search terms to use? Googling "masturbation" and
"fanfic" turns up things from Lee Goldberg and his ilk, with the yadda yadda
about how it's all some poor, unimaginative substitute for … no, I'm not going
to go there. At any rate, OMG, rec me some fanfic with masturbation in
it. Any fandom. It just needs to be hot and to involve someone touching themself
in sexy ways.
After "MarytheFan" posted her fervent plea on LiveJournal, someone enthusiastically recommended DUE SOUTH masturbation fanfic.
I haven't read them in a while, but I recall there being a few damn hot ones in
there.
I wonder if they include the dog.
(Thanks to Tig for the link)