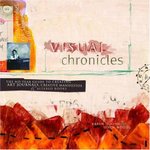 Here's the latest from my sisters Linda Woods and Karen Dinino, authors of the new blockbuster art/journaling book VISUAL CHRONICLES. We're taking our family act on the road next month…but I'll let them tell you about it:
We've been getting many emails about where we will be doing workshops and book signing events in the next few months.

You can meet us, eat cake, and get your book signed on

Thursday, March 23rd at Borders in Westwood,
California, from 7-9 P.M.. There will be books for sale at Borders, but if you've already got it, just bring it along. Rumor has it that some of the contributing artists will also be there with us this special
night~ our first Southern California book signing!

Sunday, April 30th we'll be signing our book at the Borders booth at the LA Times Festival of Books with our brothers, Tod and Lee Goldberg
(who will be signing their own books). Here's the thing- if you love Tod and Lee or just Tod or just Lee, you'll LOVE us. If you can't stand either one of them, we're nothing like them and you'll still
love US. We either are or aren't just like them depending on whether or not you find them at all entertaining. Chances are if you love US, you'll really like them, or at least Tod.
We may even sing show tunes…or at least the theme from THE PARTRIDGE FAMILY. Karen and Linda will be teaching our journaling workshop in Portland, Oregon,
this summer…more details coming soon. They'll also be scheduling more Southern California signings as well as events in
Seattle and Northern California.