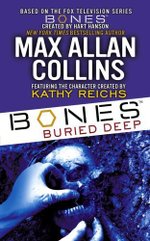 BONES may just be the most unusual notion for an tie-in novel since THE SPY WHO LOVED novelization (a novel based on the movie based on the book by Ian Fleming). BONES: BURIED DEEP is an original novel by Max Allan Collins based on the Fox Television Series BONES created by Hart Hanson featuring the character created by Kathy Reichs from her best-selling series of novels. Whew. I'm winded just typing that.
What I don't get is why Kathy Reichs a) allowed the studio to shop tie-in novels based on the series based on her books while she's still writing books in the series herself (and her old titles are still in print) and b) why, if the tie-in books were going to be done, she didn't do them herself. Isn't the whole idea behind selling your book to TV to boost sales of the books? It would seem to me that authorizing original tie-in novels would actually work against Reichs' best interests. On the other hand, the format of TV series and the tie-in novel, while featuring the central character from Reichs' books, differs substantially from the books from which they are derived.
It's very interesting to me and I'm eager to get the scoop from Max (who, by the way, also writes the CSI novels and is co-founder, with yours truly, of the International Association of Media Tie-in Writers.