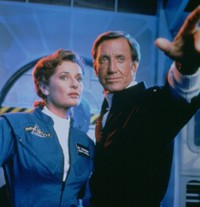 Roy Scheider died today at the age 0f 75. I worked with him briefly on the NBC series SEAQUEST and one of the things I remember most about him was how he'd sit on a folding chair outside of his trailer, soaking up the sun wearing nothing but a g-string sized Speedo. Apparently, Richard Dreyfuss has similar memories:
Dreyfuss recalled Sunday a time during the filming of 'Jaws'
when Scheider disappeared from the set. As the filming was on hold
because of the weather, Scheider "called me up and said, 'You
don't know where I am if they call.'

"He'd gone to get a tan. He was really very tan-addicted. That
was due to a childhood affliction where he was in bed for a long
time. For him being tan was being healthy," Dreyfuss said.