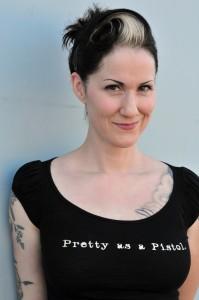 I write books more for myself than for my readers. I figure if I am not entertained, my reader won't be, either. Author Christa Faust feels the same way…
A reviewer recently accused me of creating a "Mary Sue" character in my Supernatural tie-in COYOTE'S KISS. For those who don't know what that means, a "Mary Sue" is a too-perfect wish-fulfillment character that represents the author's own idealized persona.

While I freely admit that the character in question is a wish-fulfillment character, it's a completely different kind of wish. I created that character not because I'd like to be her, but because I'd like to fuck her. After all, we tie-in writers have to do something to spice up the daily grind.

 
I don't think I've ever created a character in a book or a screenplay that was a personal fuck fantasy figure. I'll have to try that one of these days…but I doubt it will be in a Monk novel.