This full-page "apology" from a fanficcer appeared in the most recent issue of the SFWA magazine: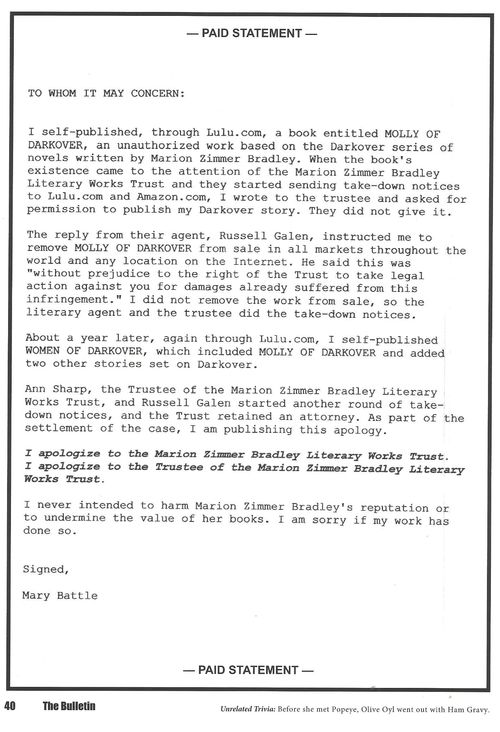 Let's see if I have this straight. Mary Battle writes a novel using Marion Zimmer Bradley's copyrighted material and sells it on Amazon, B&N etc. It wasn't until the Bradley estate discovered the infringement, and ordered the sites to remove her book, that it occurred to Mary that maybe she should have asked for permission to use material she didn't create or own. So she did. And the estate denied her request and ordered her to pull all of the books from sale or face a lawsuit.
Naturally, she ignored them… and did it again.
So they sued her. And judging by Mary Mary Quite Contrary's "apology," she still doesn't get what she did wrong.
What Mary apologizes for is any "harm" she might have done…not for repeatedly, and intentionally, and despite multiple warnings, infringing on copyrighted material for personal gain.
That's because Mary Battle is arrogant, stupid, and like so many fanficcers, has a ridiculous sense of entitlement. She thinks that just because she read Marion Zimmer Bradley's books, and liked them, they belong to her in every conceivable way. She seems stunned that anybody would question that…or that the author, or in this case the author's estate, might actually enforce their creative and legal rights. 
I'm sure Mary feels that she's been horribly wronged in all of this…and that the bad guys are Marion Zimmer Bradley's heirs. That's because Mary is a sad, pathetic woman who doesn't live in the real world.