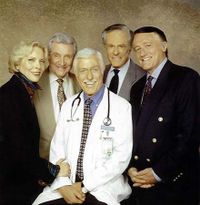 My friend Ken Levine has an amusing post — heck, he always has amusing posts — on writing episodes with a particular actor in mind for the key guest-star part. It's a very risky move. 
When Bill Rabkin & I were doing DIAGNOSIS MURDER, Fred Silverman and our star, Dick Van Dyke, always wanted to snag Mary Tyler Moore or Julie Andrews for the show.  And every season, Dick would run into them at a party or something, corner them about doing a guest shot, and they would always assure him that they would love, absolutely love, to do the show.  
So we would write an episode for Mary or Julie and they would always pass, without even reading the script, as we knew they would. They just didn't have the heart to say no to Dick's face, to tell him they had no interest at all in doing an episode of DIAGNOSIS MURDER. So we'd end up with Piper Laurie, Holland Taylor, Kathleen Quinlan, Stephanie Zimbalist or some other actress instead. It was the same when we wrote, at Dick's insistence, our annual guest part for Carl Reiner…who also always passed. We knew they would never do it…but Dick and Fred wouldn't give up. 
We also had to craft episodes for Dick's neighbors, George C. Scott and Rod Steiger, knowing damn well they wouldn't do the show, either. Scott got out of doing the guest shot brilliantly…he told Dick that he wanted to do the part, then asked us for such an outrageous amount of money that it simply wasn't possible. 
That said, we wrote an episode at Dick's behest for his friends Tim Conway and Harvey Korman and, much to our surprise, they actually agreed to play the parts…and were terrific. The funniest part though, never made it on screen. Tim Conway ad-libbed some hilarious stuff during Dick's reveal of the killer at the end of the episode…but the studio nixed it because it killied the drama. What drama? It was a flat-out comedy episode. (Yes, I am still bitter about it after all these years).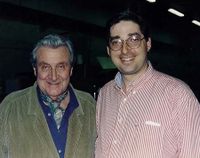 On the other hand, Bill and I got a lot of press, and mighty big ratings, for our stunt-casting episodes, which we didn't write with particular actors in mind (with the exception of the MANNIX revival, but rather a TV genre — like TV spies, TV doctors, and TV cops. Our TV spy episode — with Robert Vaughn, Robert Culp, Patrick MacNee, and Barbara Bain as "Cinnamon Carter" — was especially memorable for me (and Larry Carroll & David Carren did a fantastic job writing it). 
But Bill and I also stunt cast out of sheer folly, just to amuse ourselves. For no reason whatsoever, we cast an episode only with stars of Garry Marshall sitcoms. For another, we only cast leading actors from different versions/spin-offs of M*A*S*H (we snagged Elliot Gould, Loretta Swit, Sally Kellerman, Chris Norris, Jamie Farr, and William Christopher). Those episodes were so much fun for everyone — the writers, the cast and the crew — and were far less risky than tailoring a role for a specific actor. And the network, the critics and the viewers seemed to like it as much as we did.