Here's  a quick update on my e-publishing experiments. Following in the e-footsteps of Joe Konrath and John August, I made  THE WALK, my out-of-print 2004 novel, and THREE WAYS TO DIE, a collection of previously published short stories, available as Kindle editions. I subsequently made them available as downloadable PDFs on Scribd as well.
So far, I haven't had nearly the volume of sales that Joe and John have experienced. From June 1 to today, I have sold 371 copies of  THE WALK at $1.40 each (the actual price is $1.89, but Amazon has discounted it), earning myself $236.91. My sales of THREE WAYS TO DIE are flat at 54 copies at 99 cents each, earning me a whopping $18.90. I have sold two copies of THE WALK and one of THREE WAYS TO DIE on Scribd, at the same prices as the Kindle editions, earning me a staggering $2.44 in royalties.
At the request of several of my blog readers, I have gone one step further and have made THE WALK and THREE WAYS TO DIE available on Smashwords, where you can download them in the format of your choice. The price in all formats for THE WALK is $1.89, the same price I set for the Kindle edition on Amazon. 
So, here's where you can buy THE WALK and THREE WAYS TO DIE  in the e-versions of your choice… 
THE WALK on the Kindle 
THE WALK as a PDF at Scribd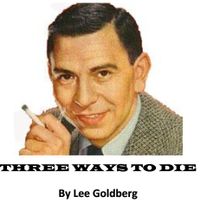 THE WALK in multiple formats, including Kindle, PDF, and Mobipocket, at Smashwords. (If you use this code KN24A at checkout, you will get 25% off, the same as the Amazon discount)
===========
THREE WAYS TO DIE on the Kindle 
THREE WAYS TO DIE as a PDF at Scribd.
THREE WAYS TO DIE in multiple formats at Smashwords. (I am experimenting with this title by using their "set your own price" feature where you, the reader, decide how much to pay).
I shall report back at the end of the month on how the books are doing on the various sites and in all the various formats.