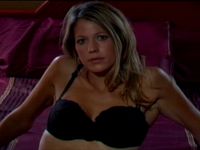 As you read this, I'm on my way to Louisville, Kentucky  today to attend the Derby City Film Festival, where my film REMAINDERED is screening this Sunday and where our leading lady, Sebrina Siegel, is up for Best Actress Honors. 
As fate would have it, REMAINDERED is an official selection of the Beaufort International Film Festival, which is also being held this weekend, way out in South Carolina. Since I can't be in two places at once,  our film will be represented there by PJ Starks, our DP, and Rodney Newton, one of our producers. 
I chose to go to the Kentucky festival because our movie was shot in Owensboro and it's a chance to finally have the cast-and-crew screening we never had. And it's a rare opportunity to be addressed as Colonel Goldberg everywhere I go (yes, I am an official Kentucky Colonel).
By the way, REMAINDERED has just been picked as an official selection of the Beverly Hills Shorts Film Festival, which is being held in Beverly Hills in March.  At least I won't have to catch a plane for this one…but with LA traffic, it will probably take as long for me to get from my house to Beverly Hills as it does to fly to Louisville. 
I will report back and let you know how we fare in Louisville and Beaufort.