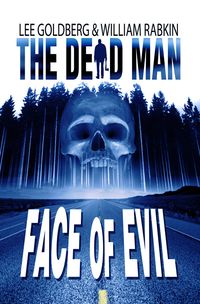 I'm pleased to announce the publication of  THE DEAD MAN: FACE OF EVIL,  the first in an original ebook series of short novels that blends the horror of Stephen King's THE GUNSLINGER with the action/adventure of Don Pendleton's THE EXECUTIONER…
Matthew Cahill is an ordinary man leading a simple life…until a shocking accident changes everything. Now he can see a nightmarish netherworld of unspeakable evil and horrific violence that nobody else does…
For Cahill, each day is a journey into a dark world he knows nothing about…a quest for the answers to who he is and what he has become…and a fight to save us, and his soul, from the clutches of pure evil.
The second book in the series will be out next month…to be followed by more all-new adventures in THE DEAD MAN saga by some of the most talented and successful mystery, western, horror and sci-fi authors out there today… including Bill Crider, James Reasoner, Matt Witten, Joel Goldman, James Daniels, Burl Barer and David McAfee. 
The book is now available on Amazon and Barnes & Noble. For those of you without e-readers, trade paperback editions of the book will be available soon.