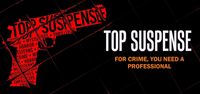 Seems to me that authors are losing track of what really matters… not the formatting, covers, tweeting, pinning and promotion…it's the story, stupid. I blog about it today at Top Suspense. Here's an excerpt:
I've listened to new writers at conferences or while lurking on writers' boards and the newbie writers seem obsessed with everything except what matters most: the writing.

I believe it's that misguided obsession that s leading to the ethical scandals we've been seeing lately… like John Locke who hired people to buy his books and write fake reviews (to artificially boost his rankings and acclaim) to establish himself… and Stephen Leather and RJ Ellory who both used "sock-puppets" on Amazon and social media to generate false buzz and fake reviews to boost their popularity and attack their "rivals."

What authors need to remind themselves is that all of that formatting, pricing, tweeting, social networking, etc. is meaningless if you don't know how to tell a good story, create compelling characters, develop a strong voice, set a scene, establish a sense of place, or manage point-of-view.

I rarely hear writers anymore talking about the pluses and minuses of out-lining, the importance of an active protagonist, the different kinds of conflict, or the elements of structure. The craft of writing has taken a backseat to the business of publishing.