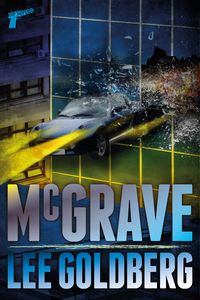 I am so flattered by the great reviews McGRAVE has been getting. Here are a few more Bruce Grossman at Bookgasm says, in part:
It's e-books like MCGRAVE that are great for tablet reading. Lee Goldberg's novella is just 70 pages of awesomeness. Think of it as some sort of lost '80s action film — or both a love letter to and parody of the genre, hitting every beat you would see in those bygone films… the story is literally just one giant action piece from page one, with no let-up, so you don't stop reading until it's done. 
Holy crap, this book is insanely fun. I'm not the world's fastest reader, and with a lot of books, I get easily distracted and take forever to finish. But, I could not put this one down. Sure, I started reading it at 12:30AM, knowing I had to be up at 6AM for classes, but what the heck. I can hate my life tomorrow for the fun I'm having right now.

McGrave isn't high art. It's not the type of book you'd see listed in Stuffy Victorian Novels Monthly, and thank God for that. It's fun for the sake of fun. It's high impact, high adrenaline, and high class all the way.
And Tyson Adams at Right What You Know said:
McGrave is a straight up actioner, pure fun, and revels in what some would call cheesy cliches. Instead these cliches are actually part of the humour Lee has used to make this story fun. 
I hope this book does well enough to justify me doing more McGrave adventures…because I had a blast writing it.