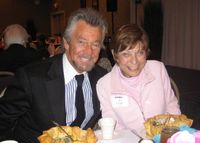 The memorial for Stephen J. Cannell was held today in Pasadena and it was a moving, funny, and heartfelt event that was perfectly in keeping with his personality and approach to life. The church was packed with family and friends, network & studio executives, actors & writers… and probably anybody who ever was lucky enough to work with Steve.  The stories told during the memorial shared a common theme — that Steve Cannell was an incredibly nice, giving and honorable guy in a business that has far too few of them. I certainly owe a lot to him.
Everybody that you'd expect to be there was… actors like Robert Conrad, Tom Selleck, Mario Van Peebles, Ernie Hudson, Lorenzo Lamas, Joe Penny, Mr. T, Ben Vereen, Fred Dryer, Jeff Goldblum, Stefanie Kramer, Michael Dudikoff, James Darren, Kent McCord, and Joe Santos…and writer/producers like Steven Bochco, Joel Surnow, Glen Larson, Patrick Hasburgh, Steve Kronish, Michael Gleason, and William Link…and even a few authors, like Paul Levine and Gregg Hurwitz.
The reception afterwards was truly a festive and upbeat celebration of Steve's life. 
I spent hours catching up with lots of old friends that I hadn't seen in years…and some I haven't seen enough of lately…. it's unfortunate that it was Steve's death that had to bring us all together again. Everyone I spoke to seemed to have a favorite anecdote to share about Steve that revealed his humor and his heart, his talent and his loyalty.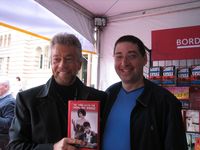 Someone at the memorial — I can't remember who — described Steve as larger-than-life. And it's true. He was a character every bit as colorful, endearing, and legendary as the ones he created on the page and on screen. I like to think that his influence, his decency, and his humor lives on in through everybody who was lucky enough to have known him. 
(Pictured: Steve with my Mom, Jan Curran, at an author's event in Ventura last year and Steve and me signing together at the Los Angeles Times Festival of Books a few years ago).