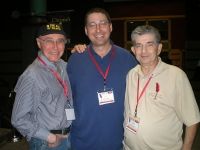 My friend Stuart Kaminsky died today. I really don't know what to say, so please forgive me if I ramble a bit. Stuart was not only a wonderful writer, he was a wonderful human being. He was unfailingly kind and supportive to his fans and his fellow writers. I was both. 
I first met him decades ago when I was a kid and a fan of his Toby Peters books, which I saved up to buy through the Mystery Guild (and wrote in each one "This book belongs to Lee Goldberg and Not You). I wrote him a fan letter and he wrote me back, and that started a correspondence that lasted off-and-on as I went from being an aspiring writer to a professional one.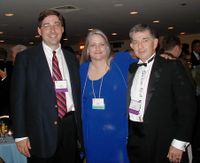 We became friends. He was one of the first writers to blurb me and gave me a lot of great advice over the years (and I was ridiculously honored, and thrilled, the first time he called me for advice on something. Actually, that never wore off). We've been produced together (NERO WOLFE) and published together (HOLLYWOOD AND CRIME) and worked together on various MWA committees over the years. The last time I saw him was a year ago in Kentucky, where he was staging an original Sherlock Holmes play at the International Mystery Writers Festival. We spent a week together and his boundless enthusiasm energized the whole event. That was the thing about Stuart, he never lost his love and his passion for writing…and it was contagious. I will miss him very, very much.
(The photo on the upper left is Bob Levinson, Stuart and me at the International Mystery Writers Festival last year. The picture in the lower right is me, Jan Burke and Stuart at the 2002 Edgar Awards. You can click on the images for a large view)