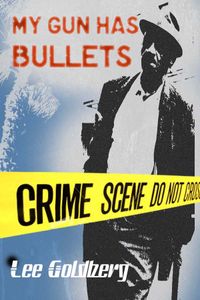 My acclaimed, long out-of-print debut novel MY GUN HAS BULLETS is now available on the Kindle with a terrific new cover by my sister Linda Woods (I wish the book had this cover when it first came out). And this new edition wouldn't be possible if it wasn't for Dan Williams, who volunteered to scan the book…and he even cleaned up the formatting problems. Thank you, Dan!
Here's the book-jacket copy (which hasn't shown up yet on the Amazon listing):
The Mob is bringing its style of doing business to television. They don't cancel TV series. They kill them.
When Beverly Hills Police Officer Charlie Willis pulls over a speeding Rolls Royce hell-bent for Neiman Marcus, he's surprised to see Esther Radcliffe, the geriatric star of the TV series "Miss Agatha," behind the wheel. He's even more surprised when she guns him down and keeps on driving. A few hours later, he wakes up in the intensive care unit…to find a William Morris agent, a network president, and the head of Pinnacle Studios standing at the foot of his bed. They have a proposal for him: in exchange for conveniently forgetting who shot him, they'll make him the star of his own series, "My Gun Has Bullets." So Charlie trades in his real badge for a fake one…and so begins an uproarious but deadly romp through the wonderful world of TV make-believe…with real bullets. To make it to sweeps week, Charlie will have to survive two homicidal stuntmen, a rabid celebrity dog, a hit man-turned-producer, a psychotic old lady, a sex-crazed blackmailer, and vicious ratings…with only a stunning, leather-clad "Baywatch" beauty to help him. 

"It will make you cackle like a sitcom laugh track. Goldberg keeps the gags coming right up to the end."—Entertainment Weekly 

"It's Bullets Over Baywatch!" USA Today
"A very funny novel…a pinch of Carl Hiaasen, a dash of Donald Westlake, and a heaping portion of avarice and inanity Hollywood Style. It's boffo!"—Thomas Gaughan, Booklist
 "'My Gun Has Bullets' takes aim and hits the bull's eye of all good satire — the truth," Howard Gordon, Executive Producer, "24"
"Lee Goldberg has written a winner!"
—Stephen J. Cannell, executive producer/creator "The A-Team," "21 Jump Street," and "The Rockford Files."
"'My Gun Has Bullets' has an outrageous, laugh-til-you're-sick scene seemingly on every other page."
—Dan Petrie Jr. Oscar-nominated screenwriter of "Beverly Hills Cop" 

"A rousing send-up of everything and everyone in the world of show-biz."—Judith Kreiner, The Washington Times 

"Hilarious, suspenseful, action-packed…its band of merry, and not so merry, homicidal maniacs may be the greatest cast ever assembled," Warren Murphy, Edgar Award winning author/creator of the "Remo Williams: Destroyer" series

"The giddiest debut of the year!" Kirkus Reviews