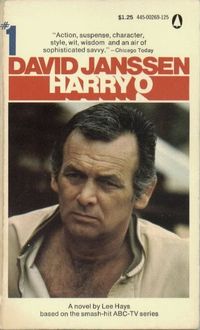 What is best TV private eye show? For me, it's a tie between David Janssen's HARRY O and James Garner's THE ROCKFORD FILES… with Darren McGavin's THE OUTSIDER coming in a close second. The plots on HARRY O were often lousy, but the pleasure of watching Janssen's portrayal and listening to the crisp dialogue (and, in the first season, the voice-overs) more than made up for it. HARRY O is definitely the most "literary" of the three …by that I mean that it was the show that came closest to capturing the feeling of reading a detective novel. Perhaps that's why I was so disappointed in the HARRY O tie-in novels, one of which is reviewed today over on the Vintage Hardboiled Reads blog. He says, in part:
This "Harry O" paperback is far from being a great crime novel, but as a huge fan of the series I did enjoy it. I would say that the characterization of Harry Orwell in the story is fairly close to the TV one. The spoken narrative on the show is definitely much better. And the book didn't capture that lonely, somber persona that David Janssen was able to deliver. I'll chalk that up as something that is difficult for a tie-in author to do. The writing is straightforward and the plot though interesting, wasn't too difficult to figure out. Even with the similarities of Hammett's Casper Gutman, I would of liked to have seen more of the Sydney Jerome character. He came off as the most colorful of all in the story. All-in-all, it still was a fun quick read for me. If you were a fan of the TV series, I'm sure you would get a kick out of this novel also.
And, just for the fun of it, here's the  HARRY O main title from the second half of season one  (I'll use any excuse to watch it again).