Since I'm wallowing in my TV geekness today (see my earlier post on BATTLESTAR GALACTICA), here's a heads-up on another TV revival to watch for…

The Western Channel is running GUNSMOKE: ONE MAN'S JUSTICE this week… the final GUNSMOKE revival/sequel movie and, to date, James Arness' final performance. It's the only one of the five GUNSMOKE movies that's unavailable on video or DVD and the only one I haven't seen. I'm eagerly looking forward to it… with both Tivos primed to record it (in case there are any screw ups). The previous GUNSMOKE movies are all terrific and the first three are available seperately, or together in a combo pack, on DVD.
(UPDATE 4-8-05: I justed watched ONE MAN'S JUSTICE and it sucked. On the other hand, RETURN TO DODGE, LAST APACHE, TO THE LAST MAN, and THE LONG RIDE are good stuff. THE LONG RIDE is also unavailable on DVD)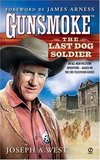 And speaking of GUNSMOKE, Joseph West's latest tie-in novel will be available later this month.