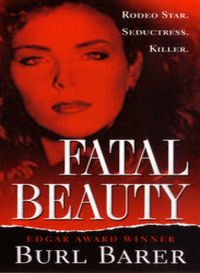 My Uncle Burl Barer's latest true crime book, FATAL BEAUTY, explores yet another bizarre and compelling homicide with a cast of outrageous characters straight out of an Elmore Leonard novel:
Jimmy Joste was a powerhouse in the oil and gas industry, but he was a weakling when it came to his gorgeous, athletic, longtime lover, Rhonda Glover. Addicted to her sexual prowess and madly in love, Joste gave her homes, cars, cash, and a $350,000 engagement ring. Their fifteen years of passion and excess ended the day Rhonda drove directly from a shooting range to the Austin home they once shared. After pumping ten bullets into him from a Glock 9mm, she stood over Joste's blood-splattered body and shot him six more times – twice below the waist..
How can you resist reading more? Uncle Burl is already getting rave reviews from the crime writing community, including this one from Kevin Sullivan, author of THE BUNDY MURDERS.
Anyone familiar with Burl Barer, understands what they're getting in a book written by him long before they turn that first page: In-depth research, exceedingly revealing interviews, and straight-forward answers as to what exactly occurred in each case. And with FATAL BEAUTY he does just that. It's a quick paced narrative that keeps one on the edge of their seat, and sparks that unmistakable feeling that it's all happening right before their eyes. I highly recommend FATAL BEAUTY for anyone who wants to know what a body can do when a mind is in turmoil.
And he got a rave from the True Crime Book Review blog.  They say, in part:
While the book may be more focused on how to prosecute (or not) a person suffering obvious mental disorders, it's very interesting. Also mind-boggling, so don't expect to read it in a couple of days – give yourself time to savor each chapter like a fine wine
If you like colorful and unusual tales of true crime, this book is for you.