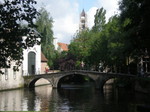 Greetings from Haarlem, Holland.
The screening of my FAST TRACK cut for the network execs last week at the Action Concept studios in Cologne went very well. They loved it…much to my relief. I've made their suggested changes to the cut and now I'm waiting to attend the "big" screening of the pilot at the network headquarters in Munich on August 8th. In the mean time, I am continuing with post-production…which includes working with the composer, the fx team, and supervising the "clean" cut for U.S. broadcast TV.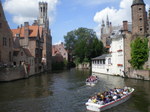 But I've snuck away for fives days with my family for a little European road-trip before they head back to L.A. on the 3rd (I'm still working though…I have a MONK book to write). We visited Brugge, Belgium, which is one of the most beautiful places I have ever seen. I must have taken 500 photos of the place. I've posted a couple of them here. Today we visited Antwerp and tomorrow it's off to Amsterdam for a day or two…then back to Cologne.