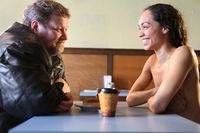 I've been back from Kentucky, where I shot the short film Bumsicle, for a few days now and I am still catching up on the work, emails, phone calls, and bills that accumulated while I was gone.  I've got plenty of things to think about…and yet, even though directing the film is behind me, I find myself editing the footage in my mind while eagerly waiting to see the first  editor's assembly. I'm sure I'll finally stop thinking  about the movie once the final cut is locked and we're on to the fine-tuning of post-production sound,  color correction, music etc.
The film is a sequel to Remaindered,  a very well-received short film I did a year or so ago, and brings back actor Todd Reynolds as Det. Bud Flanek, a character writer/producer William Link kindly dubbed "the Kentucky Columbo." Like the earlier film, this one is also based on a short story of mine.
I had a fantastic time making the movie, in no small part thanks to the terrific cast (Todd Reynolds, Rick Montgomery Jr., Sadia Brimm, Marcus Porter, Patrick Litteken, and Jared Collins) and the professionalism, efficiency and enthusiasm of the hard-working crew, led by producers J. Laine Nunn  and Roxi Witt, assistant director Rachael Nunn and Director of Photograph Marc Gurevitch.  You can see a bunch of behind-the-scenes photos and production stills here.
As much as I enjoyed making Remaindered, and as proud as I am of it, this was a smoother experience all around (despite a tornado hitting town in middle of our shoot!) and the footage looks far more polished and professional. The big reason for that is that we took a enormous step up in equipment and resources. We had two RED cameras, a professional D.P., and a full lighting/grip package this time, all thanks to Firelight Entertainment Group.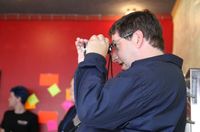 But I believe the key to the success of the shoot was the thorough pre-production planning, from the smallest props to my shot list (I provided sketches weeks in advance of how I'd shoot/cover each scene and I stuck to'em)…and the tight organization that continued until the final shot. 
We also pre-rigged some of the key locations the day before shooting, which significantly cut down on time spent lighting the sets and allowed us to move faster that we would have otherwise. And I spent a few hours before production rehearsing with the actors, so they knew the staging, and had their performances down, before they got  in front of the cameras.
Because of all that, we were able to handle the inevitable, unexpected problems…like a tornado forcing us to seek shelter early on our first day and, in one scene, an error in the settings of our "B" camera that cost us some  shots… and still stay on track without losing much time.  
In fact, we managed to get all of our work done without going significantly over schedule until the final day, but that overtime had more  to do with having to strike our sets, clean up, and pack up everything before moving to our next location, some distance  away, for our last shot. 
The shoot was tiring, but I think I can safely say it was incredibly fun for everybody involved.  I loved directing and I am eager to do it again. So I hope Bumsicle is a success on the Festival circuit and that it gives us the opportunity to bring back Det. Bud Flanek for more adventures. My hope is that these shorts might do well enough to inspire a web series featuring Flanek that I could write & direct…but that's a longshot. 
Then again, I thought The Dead Man was a long shot, too.